Augie Kuyowa N'Kele, Sculptor
Augie Kuyowa N'Kele, Sculptor
Augie Kuyowa N'Kele, a U.S. citizen since 1995, was born in Kisangani, Democratic Republic of Congo, Africa in 1953. His first exhibition was in Texas 1992.
Ithaca University in New York included N'Kele on a list of 20th century African Americans who have made important contributions to the humanities for Forgotten Heritage a series of sculptures with a historical theme.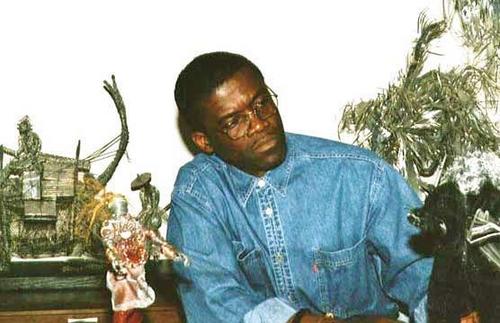 Notifying Visitors of Site Enhancements
Many of N'Kele's sculptures and paintings invite his audience to learn more about Africa. His use of wire and other metals in the creation of figurative and sometimes slightly abstracted works, focuses attention on his cultural roots. In his Forgotten Heritage series of works, begun in 1991, he was moved to create a stunningly intense chronological overview of African and American history. He has exhibited in Europe and throughout the US
ART JOURNEYS GALLERY
In 2003, the Nelson-Atkins Museum of Art in Kansas City, Missouri invited N'Kele to lecture in conjunction with their exhibition, Art of the Lega: Meaning and Metaphor in Central Africa.
A recommendation from the Dallas Museum of Art led to a PBS special, Art Journeys Gallery: Out of Africa into America, produced by the Art Museum of South Texas at Corpus Christi in 1997. The program was syndicated nationally on PBS stations and broadcast to schools via Satellite in the Classroom.
Selections from Forgotten Heritage were on exhibition with the Henrietta Marie Exhibit at Fort Worth Museum of Science & History and Spirit Square, Charlotte, North Carolina.
Augie has exhibited throughout Texas, Tennessee, North Carolina, Iowa, Nevada, Oklahoma & Norway. He has also conducted artist residencies, working with students from kindergarten through college in Irving, Dallas, Southlake and Fort Worth.
Selected Exhibitions Include:
Sioux City Art Center, Solo, Main Gallery, Sioux City, Iowa
Art Museum of South Texas at Corpus Christi, Texas
Irving Arts Center, Irving Texas
Ni unge kunstnere fra Hedmark, Norway
Danuta Haremska og Tomasz Ozdowski: Territorium og
Art Bank, Hamar, Norway
The Glåmdalsmuseet, Elverum, Norway
Voss Folke Museum, Skulestadmo, Norway
Stiftelsen 3,14/Hordaland International Gallery Bergen, Norway 1999
Diggs Gallery, Winston-Salem, NC
Ellen Noel Museum of the Permian Basin Odessa, Texas
Spirit Square, Charlotte, North Carolina
Saratt Gallery, Vanderbilt University, Nashville, TN
Mosaics Series, Dallas Visual Art Center, Dallas, Texas
Austin Peay University, Clarksville, Tennessee
Beni Cassell Gallery, Las Vegas, Nevada