Augie Kuyowa N'Kele, Forgotten Heritage
Forgotten Heritage, a thematic series of sculptures and engravings by Congo-born artist, Augie N'Kele, focusing on African and American history and culture.
The artist begins his perspective in Africa.
He's more than an artist, he's a "storyteller--with his hands...the man whose African heritage explodes in his art...a legacy of black history unfolds in incredible detail...Diane Elliott, DFW Connection Magazine
…beautifully executed, historically informed, and very powerful...Katherine Wagner, Executive Director Dallas Visual Art Center
An aura permeates the room where Augie N'Kele's art stands. Life seems to emanate from nearly 200 wire sculptures that depict an impassioned story...Norma Wade, Dallas Morning News
There's a whole spirit in...the Africa-born artist's compelling message...he's telling an incredible story from a different perspective
...Mitti Jordan, Executive Director, South Dallas Culture Center
The Forgotten Heritage Collection began with an unfinished sculpture.
In 1991, as Augie N'Kele was preparing to add plaster to the armature of a camel he was creating in art class, he paused, decided he liked it better the way it was, raw and unfinished. The wire and aluminum mesh framework hid nothing from the viewer, allowing one to see inside the work, adding a fourth dimension that would be lost if plastered over, smoothed out and polished.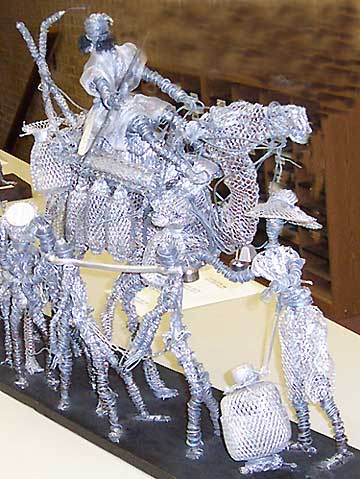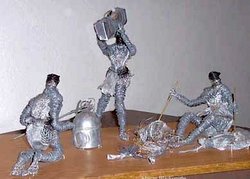 African Blacksmiths
That camel, soon to be joined by two others, was mounted in a tableau setting N'Kele titled Journey to the Coast. It was the first in a series of works he would call Forgotten Heritage.